ONLINE:  NOURISH | An Online Summer Retreat
An offering from Collette Davis, Peter Boydell and Hazel Keeley
This little package of goodness is intended to create some time and space, just for you. Time and space to listen, go inwards, set intentions, embody them, breathe them in and put everything on pause while you rest, nourish and reset.
Who is it for?
We all need these precious moments in our lives and this retreat is for all bodies, all hearts and all minds. Pets included. The practices will be liberating, gentle, immersive and inspiring.
What will I need?
A journal and pen, blankets, cushions, candles, incense, dressing gowns, slippers, pyjamas, a yoga mat, lots of herbal tea, books, music, art materials, anything that makes your soul sing, Epsom salts for the bath, coconut oil to rub on your skin. And whatever else you use to nourish your body, mind and spirit.
What won't I need?
Phones, emails, social media, newspapers, alcohol, caffeine, whatsapp, obligations, demands, to-do lists
Yippeee!!!
Tell me more…
A week before the retreat begins, you'll receive a recorded cooking class from the charming Peter Boydell, teaching you how to prepare your food in advance so you can be nourished and supported while you rest. Space is a key theme for the experience and we want to make sure you have plenty of time to play in the kitchen, buy your ingredients and start channelling your energy and intentions into yourself. (And if you don't like to cook, ask someone to cook for you! Sometimes we need to ask others to support us in supporting ourselves).
The retreat will then begin on the Saturday morning, led by our old friend Collette Davis:
SATURDAY 15th August
8am: Opening circle, intention setting, journaling and meditation
9am: Rest, light breakfast, go back to bed, walk in nature, drink pots of herbal tea
10am: 90 min morning yoga and movement practice
5pm: Hazel will guide you through a relaxing and healing Yin yoga session followed by a soothing Yoga Nidra practice, to calm your nervous system and bring you back to balance.
SUNDAY 16th August
8am: 90 min morning yoga and movement practice
12pm: Closing Circle with meditation and sharing
We recommend you boundary the rest of your afternoon so you have time to continue reading, resting, walking in nature and doing very little.
5pm: Hazel will guide you through a relaxing and healing Yin yoga session followed by a soothing Yoga Nidra practice to calm your nervous system and bring you back to balance.
About your Guides
Collette
Since Elena Brower and Tara Judelle first poured the teachings of Anusara yoga into her bones in 2010, Collette has been called to teach. A devoted student and practitioner, she continues to unravel in the spiral of awakening and shares the teachings and practices that have had a profound impact on her life.
Inspired by her teachers Leila Sadeghee, Bridget Luff, Tara Judelle and Hareesh Wallis, she is deeply grateful for their extraordinary talents, transmission and holding.
Collette's classes are an ongoing inquiry into embodied liberation, influenced by classical non-dual Tantrik philosophy, Anusara and Embodied Flow™ yoga. Curating powerful containers and safe spaces, she facilitates immersive experiences that students can soften and surrender into, before pouring soulful, thematic sequences into their systems and cells. Fluid and free, Collette holds the space for intuitive moving meditations where students are guided by the creative life force that courses through their being.
Her great love is kula and she is fortunate to have a beautiful community in both Leeds and London, which continues to grow as she travels and teaches at Radiantly Alive in Bali.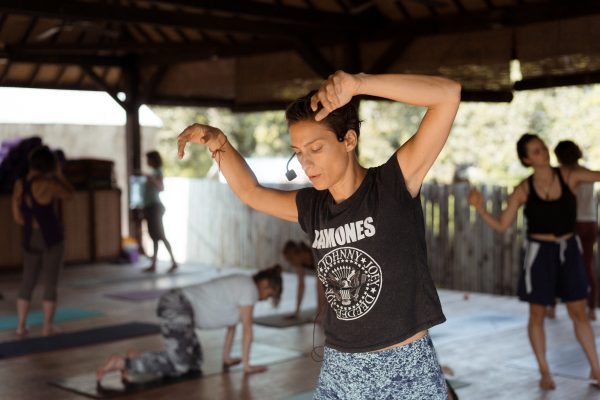 www.collettedavis.com
Hazel
Having worked with the wellbeing of humans for over 20 years predominantly as a mental health practitioner Hazel has always been fascinated in every aspect of what it is to be human.  She found her way to an initial transformational (200hr) yoga teacher training journey in London in 2016 studying with Leila Sadeghee and Bridget Luff and has subsequently completed training in Yin (50 hrs), Reiki and Nidra.
Hazel says, 'I love nothing more than to hold a space in which healing can be facilitated, and especially so with guiding Yin and Nidra which provides an opportunity for surrender and integration essential in life especially within our hurried worlds.'
Pete
Pete's mum used to send him to school with THE best packed lunches. Other kids stood in line for cold chips and custard skin, while our tall hero had home-baked bread and cakes, tropical fruits no-one had ever heard of in Stockport in the 80's, and fancy-ass foods prepared with his mother's love and all wrapped up in his rucksack. Sometimes it would get a bit weird when Pete's footy mates would come for dinner and his mum would serve cold beetroot gazpacho, buy hey, sometimes you've got to experiment. 
Pete has supported Collette's yoga retreats in the UK, Ibiza and Bali with wonderfully wholesome and colourful vegetarian, vegan and gluten-free scrumptiousness. Unbeknownst to most, Collette isn't the greatest at remembering to eat, and if Peter wasn't dynamite in the kitchen, the fear is that Collette would exist solely on the practices of liberation, with an occasional egg.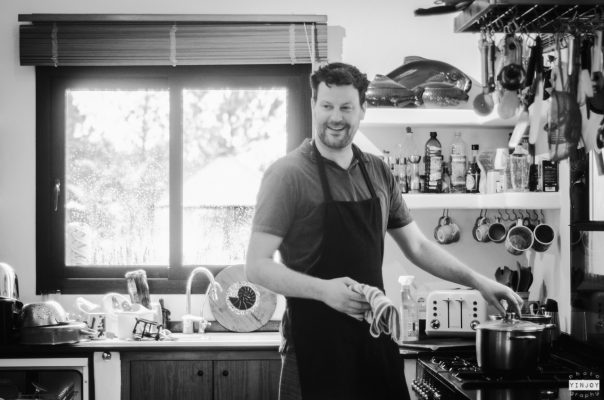 ⋆ ✥ ✺ ✥ ⋆
Price:
* £108 for the retreat
Book your space:
Book your space on Eventbrite >
Book your space on MindBody Online >
** No Props?? No Problem! **
There are many things you can use as an alternative to yoga props, please see the ideas list below, and get creative!
– Bolster alternatives: cushions (you can put some in a pillow case), Pillows (we suggest two in one case for extra support), sofa cushions, rolled up blankets, a rolled up yoga mat if you have one to spare
– Strap alternatives: pair of tights, dressing gown tie, tie – Brick alternatives: thick books, lunch boxes, tinned food cans
– Block alternatives: thinner book (e.g cook book, coffee table book size), rolled up blanket, cushion