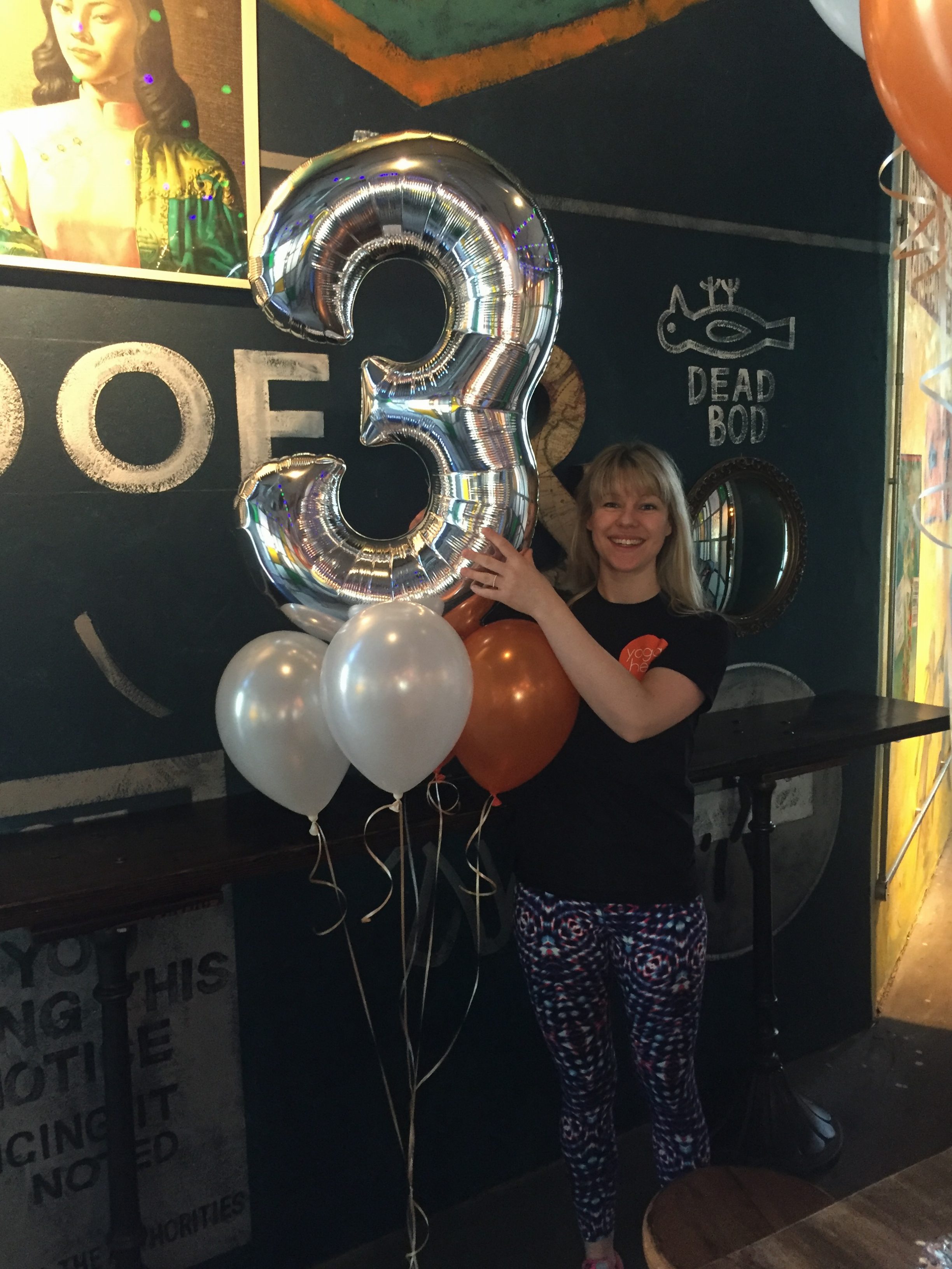 Hello!
Chris here (Doug's owner!)
I just wanted to write a few words about Yoga Hero, turning 3 and Holly in general.
As many of you are aware and some of you not so much, Yoga Hero has gone from strength to strength over the last 3 years. As I'm writing this it seems only yesterday that we were celebrating the 1st birthday at Lamberts Yard on Lower Briggate.
Holly started her classes teaching 3-4 people at a time at Trinity Church lugging her mats around in a suitcase, affectionately known as 'the yoga wagon'. Few may remember these classes but from the first class it was apparent that Holly had found her calling. Even in a cold church Holly was able to make the place feel warm and comfortable due to her infectious smile and positive energy.
Next up was the M-E-X-I-C-O project space on Wharf Street. The space was great, an open plan gallery under a vaulted ceiling with plenty of space to spread out and develop her teaching style. Holly's classes quickly started to grow and Yoga Hero as we now know it was beginning to take shape.
A short hop from Wharf Street saw Holly move to Lambert's Yard which is one of the oldest buildings in Leeds. The space had an original parquet floor which was covered with dust from previous building works, no heating and a load of rubbish left from the previous usage. It turned out that this was no bother for Holly as her usual 'can do' attitude shone through. A quick trip to the supermarket, gallons of flash floor cleaner, numerous mops and a vat of elbow grease soon had the place back to its former glory. This took a good weeks worth of nights to complete with help coming from friends and family (mainly Holly's mum, Sheila)! As mentioned previously this is were the 1st birthday was held. Holly offered free classes through out the day to her regulars and total newbies! A few nibbles were laid on and even some wine and beer! Holly had also spoken to local businesses who kindly donated some prizes for a raffle with the proceeds going to charity. All in all, a successful day.
Yoga Hero then moved to Leeds Dock, into one of the units now occupied by Sky. The unit was huge probably around 8000sqf! (Around 3 times larger than the current studio!). The similarities to Lamberts Yard were uncanny, vast and dusty! Holly was quick to strike up a relationship with the guys at Leeds Dock and a solution was quickly decided, a bright purple carpet and some boards to section off the space. The classes numbers started to increase and I'm sure that this wasn't just down to Doug who was only 8 weeks old. Some of you might remember that he couldn't walk from our flat round to the studio as it was too far and he only had little legs! Holly had settled into her classes on the Dock but it was decided that the space was going to be taken by Sky, this meant another move!
Holly then moved her classes to The Works Skatepark as random as that starts. The guys over there had studio space above the skatepark and Holly was able to rent the studio. A lot her faithful students followed and the classes continued. Collette and Isabel started teaching and her timetable grew. Holly then left for training, leaving behind a poor defenseless me and a young, not so quiet puppy!
Holly returned with a new qualification and was brimming with ideas. Holly started her classes again and briefly at Primal Gym before making the move to her current studio. As with all the places mentioned a lot of elbow grease was required. This time Yoga Hero really feels at home in its surroundings. The studio is always warm and welcoming, great teachers are always on hand to provide you with some of the best (I'm biased) yoga in Leeds. Collette and Issy are fantastic members of the Yoga Hero team. Kate and Freya are just getting started and are already doing a brilliant job. Sarah is providing Pilates classes, which are much loved. All in all it feels great to be apart of it.
I really feel a strong sense of community in and around the studio and I don't believe that this is easily created. Today (9th April) was brilliant display of this, all afternoon people have dropped in and out to celebrate the birthday. Many stayed all day, enjoying some crafts and herbal teas. Massages we're provided by Dalia and Lucy who do amazing work. Holly and I created the 'Hero Mandala' on the studio wall and many of you helped paint it, we were so close to finishing it! Thank you to everyone who has made the last 3 years amazing for Holly, you're all Heroes
N.B. A big congratulations to Holly, amazing work, amazing vision and an amazing fiancée.
Chris.